For the past few months, I've had a handful of great ideas—ideas on shaping this blog, revamping my professional website, boosting my freelance business, better serving my clients, and on and on. I'm so excited about some of my big plans that they are waking me up at night. The ideas have completely reinforced what I love about working for myself—I can create a vision and pursue it with all my might.
The problem is, the abundance of ideas has created a type of creative paralysis. I keep adding things onto my want-do-do list and while I'm making baby steps toward each one, I haven't devoted enough time to any one project to accomplish my goals. Sometimes I think too many great ideas can be just as dangerous as too few. What's more, I've given each of my new projects the same priority level, which almost ensures I won't finish any of them.
This week I realized I need to take a step back from my big visions and create a road map of how and when I'm going to accomplish each goal.
Strategy is exciting, but execution is work. In my time-starved world, I've found that if don't make my own goals a top priority and create a structured plan of how to meet them, they can easily fall to the bottom of my to-do list.
Today it's about prioritizing my master list and then taking baby steps. After all, how do you eat an elephant? One bite at a time.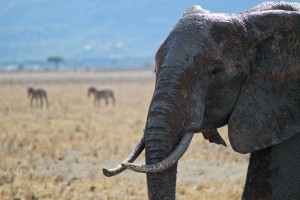 A big vision is necessary, but giving focus to my blog starts with one blog post. I'm also going to accept that I don't have to do everything myself. Sometimes spending money as a freelancer is hard, but hiring things out can be a worthwhile investment. That's why redesigning my website starts with one call to a web designer—a call that I'm going to make today.
In time, those baby steps will add up to huge leaps and get me where I want to go.