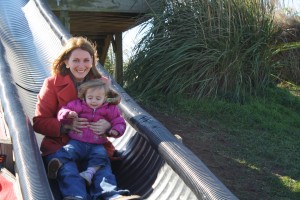 I love being a full-time freelance and mama. People often ask me how I structure my days to make the most of my time. I shared a little bit over on The Traveling Writer, but to give you a sneak peak into a typical day for me, here is a play-by-play account of a day last week:
5:00 a.m.: Our house is up and moving thanks to two little kiddos that have no idea just how early 5:00 really is. I spend the next three hours finding just the right Elmo video, getting myself ready, preparing lunches, packing school bags and feeding the kids breakfast.
8:00 a.m.: The whole family is loaded in the car and we're driving to Metro to drop my husband off at his train, then it is off to preschool. As my husband is driving to the train station, I check email and have a message from a client asking if I can write about a new regulatory issue for her newsletter. I write back and ask if I can turn it in on Monday morning. She agrees.
9:30 a.m.: Finish the preschool drop off and head off to a meeting with an editor to discuss taking over two sections of his magazine on a regular basis. I am super excited!
10:00 a.m.: Arrive at my meeting. Take a diaper and a Spiderman mask out of my purse and replace it with my monogrammed leather portfolio. Realize I'm a little early and spend some time reviewing the magazine I'm going to be discussing. At this point I also realize that in the morning rush of making sure everyone else was fed, I didn't eat any breakfast. I check out my snack stash and discover that all that is left are some Cheeze-Its and a half-full box of hard raisins. I opt for the crackers and make a mental note to stick some better snacks in the car.
10:30 a.m.: I have a great meeting with the editor. We discuss his needs and the timing and exactly how he wants the final product delivered (separate files, one file, etc.). I use the face-to-face meeting as an opportunity to discuss the top issues he expects to cover this year and what his readership is the most interested in right now.
11:30 a.m.: Drive back to my home office, grab a protein bar and finish proofing a magazine for a client.
12:30 p.m.: Start researching a story I would like to pitch to a new publication and conduct interviews on two features due next week. Surprisingly, I connect with three sources on the first try! Yeah!
2:20 p.m.: Go and pick my kids up from school. We stay and play on the playground before leaving for home. We spend the rest of the afternoon playing, making dinner and tidying up around the house.
5:30 p.m.: Feed the kids dinner. Then, like a fool, I mixed up some homemade bathtub paints and put the kids in the tub. The kids loved it, but it made an awful mess for me to clean up.
6:30 p.m.: Pick my husband up from Metro.
7:30 p.m.: Put the kids in bed. Wipe the tub down one more time.
8:00 p.m.: Work on the features that I researched during the day. Catch up on Facebook (a guilty pleasure) and watch Jersey Shore (the ultimate guilty pleasure).
11:30 p.m.: Call it a night and go to bed!
P.S. In case you are foolish enough to want to treat your kids to some homemade bathtub paint, mix ½ cup cornstarch, ½ cup hot water and one cup of bath wash. Mix in some food coloring and let your kids have at it.