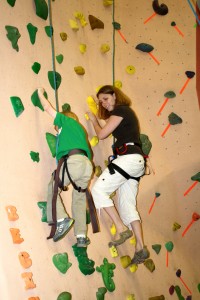 Each week my articles go out into the world and I'm eager for people to read what I've written. The publications I write for have paid subscriptions of a few thousand to over 25,000. I'm not shy about people seeing my byline and I'm always happy when it is on the front page.
But I have a new project I'm working on—one that I've been tight lipped about. So, let me tell you a little secret…I am working on writing my first picture book. It seems like such a little thing, but spreading the word about this dream of mine is scary.
When it comes to writing children's stories, I'm insecure. This is new territory for me and I know I have a lot to learn. The thought of sending my 500-word picture book manuscript off to my four critique partners is far more nerve wracking than waiting for a 2,500-word feature to hit those 25,000 mailboxes.
It isn't easy to do something new, particularly when we know we aren't going to be good at it right out of the gate. Yet each week I take Evan to hockey and tell him that he has to practice if he wants to get better. I tell him not to get discouraged when he falls down because that is how he learns. When he whines because skating is hard, I tell him, "In our family, we do hard things." But I don't always lead by example. I am guilty of sticking to what I know because it is comfortable.
Last month I took Evan to a rock-climbing party. My little guy wanted to scale the wall, but fear kept him from reaching the top. I knew how much he wanted it, so right before the party ended, I climbed with him. I was nervous I wouldn't be able to do it, but I stepped out of my comfort zone and loved the adventure.
Jumping into the world of children's literature is a new and exciting journey, but I know the path to publication is long and hard. I'll be putting myself out there and learning from my mistakes. I've read that picture books are one of the hardest markets to break into. I'd love to get a picture book published (who wouldn't!?!), but delving into children's literature is about more than that. It is about learning new ways to play with words and making a new group friends along the way.
Next month I'll be spending a full weekend at the New Jersey Society of Children's Writers and Illustrators conference. I can't wait to take in everything the conference has to offer. Writing for kids is a new avenue to explore and I'm looking forward to connecting with a whole new group of writers. It is a fun addition to my life as a full-time freelancer and mama.