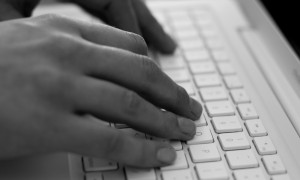 Good questions get good answers, and the key to  any story is an effective interview. As a write-at-home mom with limited business hours, not only do I need my interviews to be effective, I need them to be efficient as well. Here are my top five tips to help you maximize your interview time and get the information you need.
Do Your Homework: There is no reason to re-hash information during an interview that I can easily find online. I always start with the company's website and review their recent press releases. I also search the publication I am writing for to see if the source has appeared in print before and learn from what he or she had to say. A simple Google search can also help you find your source in print. If I have time, I also try to find the source on LinkedIn just to learn a little more about him or her.
That basic research ensures I use my time to get to the information that wasn't online. It also helps me form questions that will elicit good answers. Plus, being prepared garners some respect from my sources and they know I care about the project and their time. It usually makes them a little more willing to share what they know.
I create a list of questions ahead of time, often making notes next to them to help me with follow-up questions that might come up.
Make a Connection: We're all a little more comfortable around people we know, so I try to build rapport with a source before I launch into my questions. I take a few minutes thank her for  talking with me and bring up any connections we may have if I discovered them while doing my research. It could be that we attended the same conference, share some connections on LinkedIn or that we've lived in the same area. I'm originally from Utah and you'd be amazed at how often my sources and I have some sort of a Utah connection.
Don't be Afraid to Ask the Same Question a Different Way: When I'm doing an interview, I'm not just looking for information, I'm also looking for pithy, colorful quotes. If I'm not quite satisfied for an answer I've gotten, I'll try to re-shape the question so my source will go into a little more detail.
Set a Hard Stop: I allot 30 minutes for most of my interviews and I always let my sources know up front that I have a hard stop. I find this helps us both prioritize. Sometimes sources, particularly if they have a product or service they're telling me about, can share far more detail than I need for the story. The time limit helps them focus. If I start to lose control of the interview, which can happen, I can always say, "I know we have a limited amount of time, so let's focus on XYZ."
Rely on These Go-To Final Questions: One of the most valuable things I learned in J-school was to end every interview with this question: "Is there anything I haven't asked that I should know?" I can't tell you how many times that simple question led a source to launch into a great tangent that totally made my story.
Sources often beget sources, so as we're winding down, I ask my source if there is anyone else I should talk to for the piece. I've gotten great leads this way and it also helps break the ice during my next interview. I love when I can call someone new and say, "Hi So-and-So. I just finished an interview with Joe Blow at XYZ Company and he thought you'd be a great person to talk to about blah, blah, blah. Do you have a few minutes to chat?"
Finally, before I hang up, I also ask the source if I can follow up if I come across questions as I'm writing. I ask for an email address and direct line if I don't already have it. That speeds things up if I'm trying to answer a last-minute question on deadline.
Do you have any tips and tricks for conducting effective interviews? I'd love to hear them.
Photo by Jakub Krechowicz.